Dr. John Goodman offers dental cleanings and exams at his Kansas City, MO, clinic. In general, it is recommended that everyone undergo dental checkups and cleanings every six months (if not more often due to specific oral health conditions) beginning after their first tooth erupts. These treatments allow your dentist to detect most oral health issues in their very earliest stages, when they are easiest and most affordable to resolve. If you do not currently visit a dentist every six months, we invite you to schedule an appointment with us.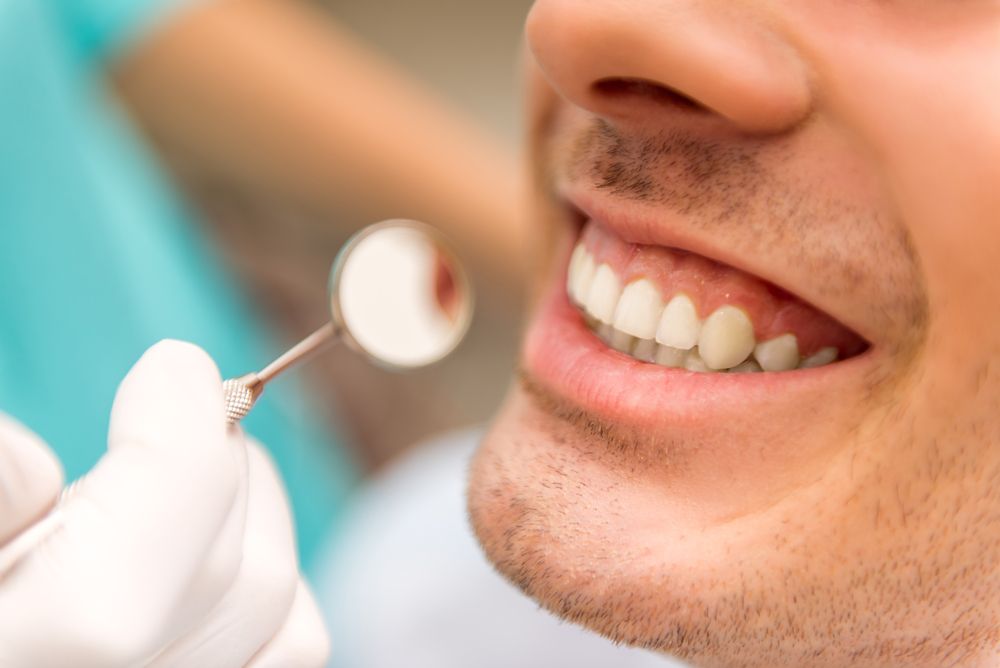 The Importance of Regular Dental Exams
Dental visits allow Dr. Goodman to diagnose and treat dental problems before they become more severe. If Dr. Goodman sees signs of a cavity, for example, he can recommend a filling or other treatment that can restore the health of your tooth before a root canal, <a href="/dental-crown>crown, or complete replacement of the tooth becomes necessary.
Cleanings are an important part of these visits. By removing plaque and tartar buildup, Dr. Goodman or one of our skilled oral hygienists can not only prevent cavities, but also prevent or reverse the early stages of gum disease. More than half of adults in the United States have some stage of gum disease. With our help, you can avoid this issue and maintain a healthy smile.
Additional benefits of regular dental exams include:
Fresher breath
A more attractive smile
Lower long-term dental care costs
Preservation of natural teeth
Quick treatment (usually less than one hour)
What Should I Expect during My Dental Exam & Cleaning?
There are two parts to a regular dental visit at our Kansas City clinic: the checkup (examination) and the cleaning.
Checkup
Dr. Goodman will visually inspect your teeth and gums. He will also take X-rays to detect cavities or other dental problems. If Dr. Goodman notices any conditions that require further treatments, a second appointment may be scheduled at that time.
During your exam, Dr. Goodman will also:
Check for signs of gum disease
Look for chips or cracks on your teeth
Check the strength and evenness of your bite
Check your fillings or other restorations
Inquire about any pain or discomfort you have experienced
Look for possible signs of oral cancer
Cleaning
During your cleaning, a special tool will be used to remove plaque and tartar. After your teeth have been cleaned, one of our skilled staff members will polish your teeth using a gritty paste to whiten your teeth and remove surface stains.
Dr. Goodman has an average rating of 4.9 stars from nearly 200 Google reviews.
Why Visit Dr. Goodman for Your Next Checkup?
When searching for a qualified dentist, reviews and experience matter. Dr. Goodman has more than two decades of professional experience. Dr. Goodman also has an average rating of 4.9 stars from nearly 200 Google reviews.
Dr. Goodman and our dedicated staff believe our patients deserve the very best care. We use the latest technology, cutting-edge techniques, and proven methods to safely ensure the health and beauty of your smile.
Contact Us Today
Our Kansas City clinic is a one-stop shop for a wide range of dental treatments. If you have concerns about the affordability of dental cleanings or other treatments, our office accepts CareCredit® financing. To schedule your next cleaning and exam, contact our office online or call (816) 842-8585.