Restore Your Oral Health with Full Mouth Reconstruction
If you are missing several teeth or suffer significant dental decay, you may still have options for a healthier smile.
A dentist can restore the appearance, health, and function of the oral structures with full mouth reconstruction.
Learn more about how full mouth reconstruction at Dr. John Goodman's Kansas City, MO, dental practice can improve your oral health...
Can't speak any more highly about Dr. Goodman and his practice. He works with the up most professionalism and I always looked forward to my visit. I highly recommend him for anyone living/working in North KC. He doesn't try to push you into services that are unneeded and respects everyone's time. I've been in and out within the hour which I really appreciate. Dr. Goodman, thank you for everything you have done!
View On Google
My visit with Dr. Goodman was top notch! From the telephone call with the receptionist to the dental treatment and leaving, I received superb care. The facility was clean, had current technology, and Dr. Goodman explained everything to me while taking time to make a personal connection with me as a new patient. I was able to receive full care in one day. I walked away with a beautiful smile, thanks to Dr. Goodman and his team! I highly recommend this facility if you are looking for professionalism and state of the art care! Thank you Dr. Goodman and staff for meeting my dental care needs.
View On Google
Learn More about Your Options



Dr. Goodman has more than 25 years of experience performing complex full mouth reconstruction treatment plans. If you are ready to take the first step toward achieving your new smile, consider scheduling an appointment at our practice.


Contact our dentistry office online or give us a call in Kansas City at (816) 842-8585.
Anyone who has experienced significant oral health issues can benefit from full mouth reconstruction. This personalized plan can address many concerns that affect the mouth, such as:
Tooth decay
Tooth loss
Fractured or broken teeth
Bruxism (chronic grinding and clenching)
Bone or tissue loss
Misalignment and malocclusion
The Full Mouth Reconstruction Consultation
During your consultation at our practice, Dr. Goodman will thoroughly assess the health of your mouth. Every case is customized to produce a unique outcome that addresses the patient's concerns and meets their smile goals. Photography and diagnostic wax-ups may be used to help patients visualize possible results and help us refine your plan.
In some cases, a consultation with an oral surgeon is included if tooth extractions, dental implants, or gum surgery are a necessary part of your full mouth reconstruction treatment plan.
If periodontal disease is present, we will treat this condition before performing restorative treatments as oral infection can seriously hinder the results of full mouth reconstruction.
Other Possible Treatments
In some cases, your full mouth reconstruction treatment plan may be combined with cosmetic procedures such as porcelain veneers or teeth whitening. Porcelain veneers can be placed to mask worn-looking front teeth. Teeth whitening may be performed to whiten any natural teeth that will remain in the mouth so they match the bright, white color of any new restorations. Schedule your consultation to find out if veneers or teeth whitening should be included in your treatment plan.
Very friendly staff! I hadn't been to the dentist in years and was nervous, but everyone was great. I'll be using them from now on & plan to bring my son!
View On Google
Dr. Goodman's office is so accommodating, prompt, polite, and more! We love this office, their customer service, and interest in our family as people and not numbers!
View On Google
How Long Does Full Mouth Reconstruction Take?
Because each treatment plan is designed to accommodate the needs of the patient, every full mouth reconstruction will be different. The procedures recommended for you will determine how long your overall treatment takes.
For example, an individual who is receiving three dental crowns and a few fillings will complete treatment much faster than a patient who is receiving an implant-supported denture. During your consultation at our Kansas City practice, Dr. Goodman can offer an estimated treatment timeline.
The Cost of Full Mouth Reconstruction
Because full mouth reconstruction treatment plans are highly customizable, patients need to come in for a consultation for an accurate quote. In fact, no two treatment plans are exactly the same.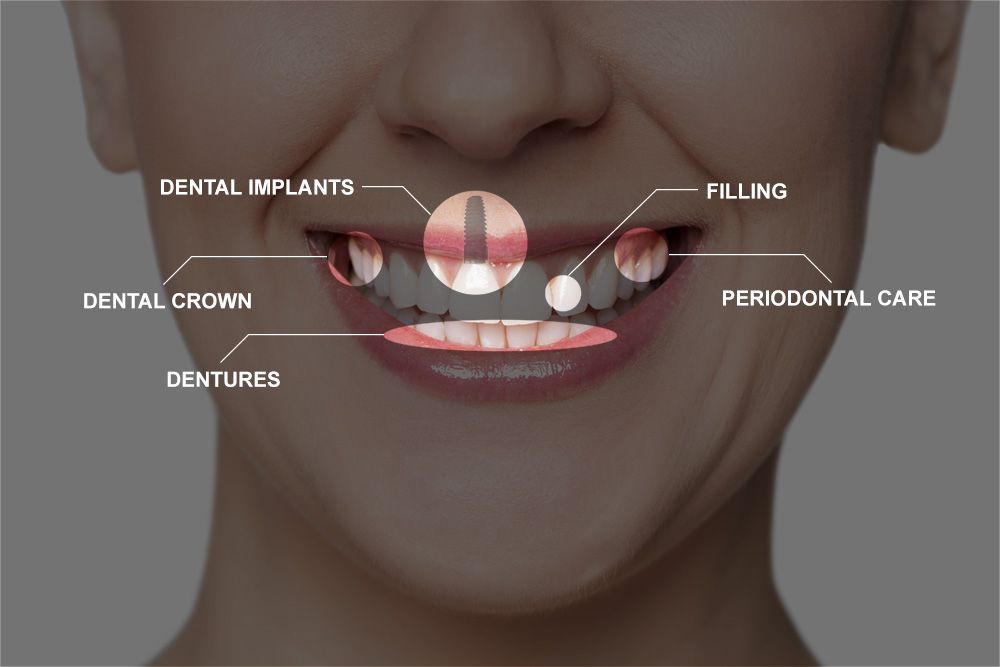 Potential price ranges for some of the most common treatments include:
Porcelain Crowns: $1,500-$1,650
Dental Implants: $3,000-$5,000 per tooth (plus surgical cost)
However, because a full mouth reconstruction is a restorative, dental treatment, insurance may cover a portion of your expenses. Our financial coordinator at our Kansas City practice with work with your dental insurance company to get as much coverage as possible to limit your out-of-pocket costs.