Greater Stability with Implant-supported Dentures
Patients who are missing most or all of their teeth can restore their smiles with dentures. However, many patients do not want to deal with messy adhesives or worry about their prosthetics slipping and falling out of place. Fortunately, John P. Goodman, D.D.S., can permanently stabilize dentures using dental implants. With this advanced restorative option, he can significantly improve your comfort, dental function, and oral health. We provide several types of implant-supported dentures at our Kansas City, MO practice, including both full and partial prosthetics.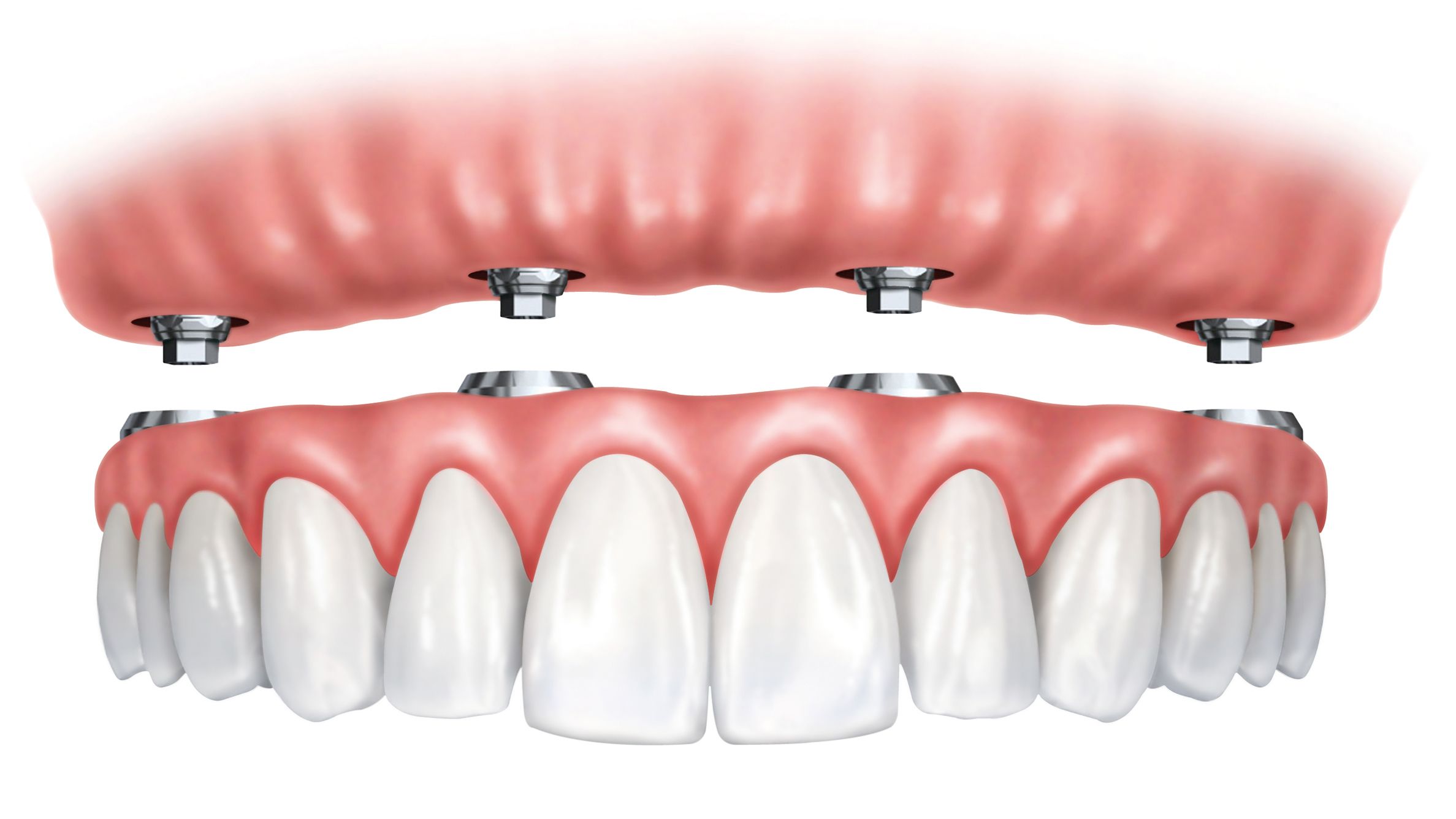 Candidacy for Implant-Supported Dentures
A majority of patients who are missing teeth can be candidates for implant-supported dentures. This type of restoration can also be a good option following full mouth extraction, though Dr. Goodman will always try to save your damaged teeth whenever possible.
Your jawbone health is one of the most important considerations when it comes to candidacy for implants. For the titanium posts to have a solid foundation, you must have a sufficient amount of dense bone volume. Unfortunately, bone recession often follows tooth loss because the jawbone stops receiving stimulation from the roots of the teeth.
Your Restorative Options
Dr. Goodman offers two primary types of implant-supported dentures: full and partial restorations. A full denture will restore your entire upper or lower dental arch. This option may be appropriate if you are missing all or most of your teeth. A partial denture can replace a large portion of your dental arch. It can be a good solution if you are missing more than three adjacent teeth.
Additionally, your denture can be made from several different materials. Dr. Goodman will help you choose the right type for your oral health needs and cosmetic goals for treatment.
The Implant Procedure
Dr. Goodman will take x-rays and scans of your jaw to look for signs of jaw recession at your consultation. He will also identify the strongest parts of your jaw to support the implants. If you are a good candidate then Dr. Goodman will refer you to an Oral Surgeon for a consultation and surgery.
It will take about three to six months following surgery for your jaw to heal around the implant posts. While you are healing, we will provide you with a temporary restoration. During your recovery period, the lab will create your denture using impressions of your jaw and photos of your smile. When the implants have fused with your jaw, Dr. Goodman will attach your permanent restoration.
Contact Us for to Learn More
Implant-supported dentures offer greater comfort and stability than any other restorative option. Patients will no longer have to worry about their prosthetics slipping or falling out of place while eating or speaking. To learn more about implant-supported dentures or to find out if you are a candidate for treatment, please contact our office today and schedule a consultation.