Protect Your Overall Health with an Oral Cancer Screening
Your health is our number one priority, which is why Dr. John P. Goodman provides an oral cancer screening for all patients at our Kansas City, MO, practice during routine checkups. Using a highly trained eye, Dr. Goodman can catch the disease in its earliest stages when it is more easily treatable. In most cases, early detection and intervention can result in an 80 to 90 percent survival rate. A visual screening can quickly identify abnormalities and in some cases, the doctor may recommend a biopsy. Especially important for our senior patients, this simple, noninvasive screening can help save your life.
As even the healthiest individuals can develop oral cancer, we recommend that everyone undergo a yearly screening.
Oral Cancer Signs and Symptoms
Oral cancer can affect both the hard and soft tissues inside your mouth, including your lips, tongue, throat, and sinuses. The symptoms typically associated with oral cancer include:
Chronic mouth sores that do not heal or go away
Mouth sores that easily or frequently bleed
Difficulty speaking, swallowing, chewing, or moving the jaw or tongue
Red or white lesions inside your mouth
Pain, tenderness, or numbness on the lips or in the mouth
Thickening skin inside the mouth
Jaw pain
Persistent hoarseness
A sore throat or the feeling of a lump in the throat
It is important to remember that some patients may dismiss lesions for a canker sore or another benign health issue, which is why it so vital to undergo regular screenings.
Minimizing Your Risk
Oral cancer affects nearly 50,000 people in the United States each year. Of those, only about 50 percent will survive five years after diagnosis. This type of cancer has a higher mortality rate than skin, thyroid, and cervical cancers, making early detection crucial. Although anyone is susceptible to developing oral cancer, certain factors can increase your risk, including:
Age (those over the age of 40)
Tobacco or alcohol consumption
Sunlight and ultraviolet radiation
Unhealthy diet
Family history of cancer
Weak immune system
HPV (Human Papilloma Virus) diagnosis
Combining routine visits with preventive care can help protect your long-term physical health. In addition, patients should avoid all tobacco products and drink alcohol in moderation. Limiting sun exposure and wearing sun-protective lotions on the lips and skin can further minimize your risk. Lastly, it is important to maintain a healthy and balanced diet and visit the dentist for routine checkups
.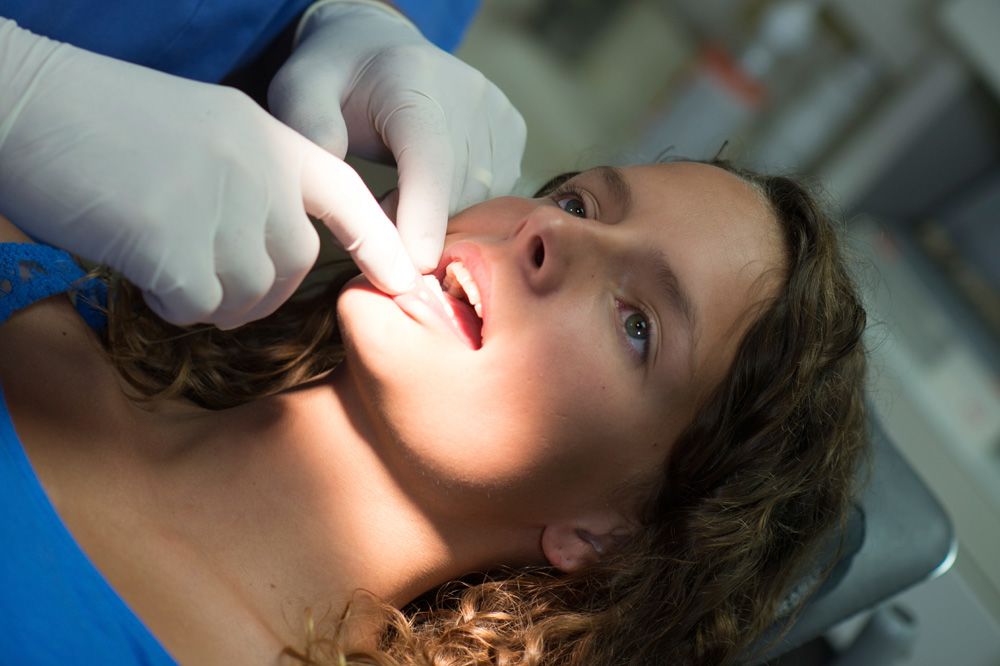 Oral Cancer Screening Procedure
As even the healthiest individuals can develop oral cancer, we recommend that everyone undergo a yearly screening. During your routine examination, Dr. Goodman will check your face, neck, jawline, and mouth, conducting a visual screening and feeling for any noticeable abnormalities.
Protect Your Oral Health
Although oral cancer can have serious health repercussions, caught in its earliest stages, the condition is typically treatable. For this reason, these simple preventive screenings can help you maintain your overall health and well-being.