Veneers are one of the most versatile treatments in cosmetic dentistry. The treatment process is unique for each patient, so costs can vary.
At the practice of John Goodman, DDS, in Kansas City, MO, veneers typically cost $1,750 per tooth.
Learn what affects the price of veneers and what we can do to help your treatment work for your budget.
What Affects How Much Veneers Cost?
At
our practice
, it costs around $1,750 to create and
place a dental veneer
for one tooth. However, as with many cosmetic dental procedures, treatment is fully customized for each patient, so your final cost may vary. Here are some factors that may affect the cost of your treatment with
veneers
.
Number of Veneers
It takes more time and materials to treat a greater number of teeth with veneers. The process involves removing a very small amount of enamel from each treated tooth and sending impressions of your smile to a lab where your custom veneers will be created.

The price of your treatment will rise as the resources used to complete it increase, but the final results will be well worth it, no matter how many veneers you receive.
Materials Used
Dental veneers can be crafted from a number of materials, but not all materials are of the same quality. We prefer using high-grade dental porcelain at our practice.

Porcelain is extremely durable, semitranslucent, and has the same light-reflecting qualities as natural teeth. It can also be accurately color-matched to your smile, so your porcelain veneers will look incredibly lifelike and blend in seamlessly with the rest of your teeth. Porcelain veneers are more expensive than some other types of veneers, but they offer far superior aesthetics and a longer lifespan.
Preparatory Dental Care
The treatment timeline for porcelain veneers tends to be relatively quick, but you may not be an immediate candidate for treatment. If you have a preexisting dental health issue, such as tooth decay or gum disease, it will need to be addressed before we can move forward with your cosmetic treatment.

Fortunately, Dr. Goodman has significant experience providing restorative care. We can add preparatory treatments to your porcelain veneers timeline and perform them right here at our office. Additional procedures will add to your costs, but the health benefits will be invaluable.
See the Stunning Results For Yourself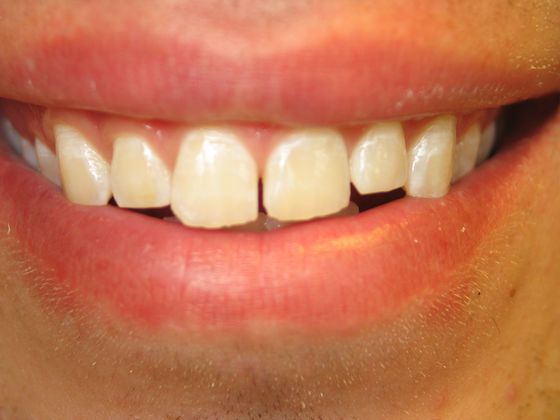 Looking for a Quick Transformation on a Budget?
Consider Same-Day Veneers
For the right candidates, Dr. Goodman can place new dental veneers in just one appointment. The price of this expedited treatment can be as little as half the cost of traditional alternatives. Want to find out if same-day veneers are right for you? Feel free to contact us for a consultation.
"Dr. Goodman and his staff were incredible."
Amazing Reviews of Our Practice in Kansas City
Dr. Goodman and his staff were honestly incredible. I've never been to a dentist that's taken his time to talk me through recommendations, and had the best interest of the client in mind. I would absolutely recommend him! Probably the best dental experience I've ever had.
View on Google
I recently switched from my dentist of 21 years to John Goodman's office and I am so beyond thrilled I made the change! Dr. Goodman and his staff are extremely welcoming and provide amazing customer service. You won't be dissapointed!
View on Google
Flexible Financing Can Keep Your Veneers Affordable
Veneers are considered cosmetic dentistry, so they are unfortunately not covered by dental insurance. However, we don't want this to keep you from achieving your smile goals. This is why we offer financing through CareCredit®, a third-party lender that extends loans with little or no interest and flexible monthly payment plans. We will be happy to help you navigate your financing options to ensure your treatment stays as affordable as possible.